Teamsters and trannies, unite!
The politics and prospects of the new struggle for LGBT rights.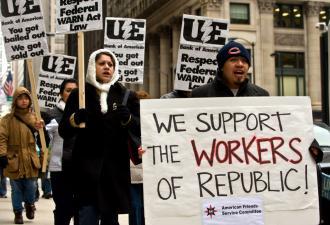 THE YOUTH and spontaneity of the latest explosion of gay militancy in response to the defeat of same-sex marriage in California's Proposition 8 referendum is magnificent. But that's not the only advance in this nascent movement.
The political outlook and social composition of this rising lesbian, gay, bisexual, and transgender (LGBT) movement deserve comment. These young (and not so young) LGBT fighters are part of the growing army of café baristas with college degrees and itinerant low-wage workers that now populate every city and town of the United States. This newly forming movement is pro-labor, anti-corporate, and explicitly welcomes non-LGBT folks into the struggle. Goodbye Will and Grace, hello Republic factory workers!
To punctuate this evolution, new movement activists, students, and socialists organized a gay marriage forum in Chicago on December 11, one day after the historic victory of the Republic Windows and Doors factory occupation in that city. Fresh from winning nearly $2 million in severance and vacation pay for the multiracial group of factory workers, Raúl Flores addressed the crowd brilliantly, saying that our struggles are united and we must be too. "Our victory is yours," he said, "Now we must join with you in your battle for rights and return the solidarity you showed us."
The day before, hundreds of gay protesters rallying for equal marriage rights as part of the national Day Without a Gay initiative linked their march with the Republic workers' protest outside Bank of America. Trade unionists, immigrant rights activists, and gays rallied together in the most eloquent display of genuine rainbow power Chicago has witnessed in decades. One Chilean immigrant described the day's action as "a school for struggle."
Even the name of the LGBT action expressed the cross-pollination of struggles—the historic mass immigrant workers' marches that hit the streets in 2006 were called A Day Without an Immigrant.
On a speaking tour through California the previous week, we met young and middle-aged Black, white, and Latino LGBT people outraged at the corporate-driven strategy of the No on 8 campaign that disastrously misled the Prop 8 battle. At the Prop 8 and the Struggle for LGBT Liberation forum held at the headquarters of the United Teachers of Los Angeles a few days after Thanksgiving, two young Black lesbians, LawLa Colding and Deanna Leonard, spoke of the racist contempt shown them by local No on 8 organizers during the campaign prompting these budding militants to form a new group, Love Honor Cherish. One Latino gay activist described offering to run a No on 8 mobilization office in his working-class immigrant community, but he was turned down by the organizers who have yet to account for the colossal mismanagement of nearly $44 million in this battle.
In San Diego and San Francisco it was the same story. Upper-middle-class gays who led the local No on 8 "fight" sequestered the movement inside trendy gay ghettos while the working-class neighborhoods and non-white ethnic groups were written off. All the while, Yes on 8 campaigners' street heat approach was in evidence as every gridlocked crawl through LA's notorious traffic revealed Spanish and English language "Yes on 8" stickers adorning bumpers of pick-ups and Mercedes alike. To their credit, members of the California Teachers Association who sensed looming trouble for the legislative proposal turned over the last couple of weeks of campaign phone banking to educate people about Prop 8's disastrous denial of civil rights.
As Rolling Stone aptly noted, Prop 8, which called for reversing the state Supreme Court's decision to grant marriage licenses to gays and lesbians, was down seventeen points only two months before the election. The reversal wasn't inevitable, it was unwittingly orchestrated by corporate-driven, Democratic Party-beholden interests who ran a tepid and defensive campaign of euphemisms obscuring the stakes in the fight.
"This was political malpractice," Rolling Stone wrote, quoting a powerful California Democratic consultant. "They fucked this up, and it was painful to watch. They shouldn't be allowed to pawn this off on the Mormons or anyone else. They snatched defeat from the jaws of victory, and now hundreds of thousands of gay couples are going to pay the price."
The false and reactionary mythology that Blacks and Latinos are to blame for the loss of gay marriage rights in California ignores recent history. To judge from social research, had there been an unapologetically pro-civil rights campaign there was the prospect of a different outcome.
The most comprehensive study of Black attitudes toward homosexuality, which combines thirty-one national surveys from 1973 to 2000, came to a fascinating conclusion. Georgia State University researchers found that "Blacks appear to be more likely than whites both to see homosexuality as wrong and to favor gay-rights laws."
African Americans' religiosity leads many to believe that homosexuality is a sin, while their own experience of oppression leads them to oppose discrimination. This was borne out in the 2004 elections, where, in the six states with substantial Black populations that had same-sex marriage bans on their ballots, Blacks were slightly less likely than whites to vote for them.
The release of Gus Van Sant's brilliant biopic of gay activist elected San Francisco Supervisor in 1977, Milk, has arrived in theaters at a crucial teaching moment in the struggle. The film alludes to a key aspect of the successful gay-labor struggles against Coors beer and the 1978 Briggs Initiative that would have banned LGBT teachers and their allies from "advocating, imposing, encouraging or promoting" homosexuality in California's classrooms. By uniting with Teamsters in the Coors battle and forging lasting alliances with blue- and white-collar workers in the Briggs Initiative, Harvey Milk along with tens of thousands of activists advanced both the fight for gay civil rights and for labor unity.
The interaction between workplace organizing and the fight for LGBT rights has a long history. Harry Hay, the founder of the first U.S. gay organization, the Mattachine Society, got his start as a union organizer in the 1930s and 1940s in New York's Department Store Workers Union with the International Workers of the World (IWW). Some of the research that historian Allan Bérubé did on the Marine Cooks and Stewards Union (MCS) in the 1930s and 1940s shows how prior to the emergence of gay rights organizations in the U.S., a largely gay and multiracial group of workers led by communists on passenger ships transformed that reactionary union into one that defended gay rights, challenged racism, and won material gains for all of their workers until McCarthyite tactics tore them apart in the 1950s. The banner hanging in the hall of the 20,000-strong, Black and gay-led MCS union read: "Race-baiting, Red-baiting, and Queer-baiting is Anti-Union."
The current movement will face serious challenges. The largest national gay rights organizations such as Human Rights Campaign (HRC) are sponsored by multibillion-dollar corporations and tied to the don't-rock-the-boat approach of the upper echelons of the Democratic Party. In the midst of massive layoffs and the most severe economic crisis since the 1930s a conservative narrative may be advocated by these organizations with money and access to power. At a Washington, D.C., gay marriage forum in early December sponsored by HRC and attended by more than 100 activists, some panelists proffered formalized lobbying and political maneuvering and emphasized marketers' messaging techniques as the way forward. It is not.
The gay marriage fight should not be separated from the wider class struggles American workers are facing. In addition to social equality and legitimizing gay sexuality, this fight is for much-needed material benefits—the health care, Social Security, inheritance, and the other rights and benefits of marriage that working-class LGBT want and need.
The electoral defeats of same-sex marriage in California, Florida, and Arizona now appear to be temporary setbacks that have stoked a genuine opposition that is more confrontational and less tepid than recent years. This dynamism needs to be channeled into new organizations, unions, and campus groups that demand not only statewide legislation, but repeal of the Clinton-era Defense of Marriage Act (DOMA) that allows states as well as the federal government not to recognize same-sex marriages consecrated in other states and defines marriage as a union between a man and a woman. So long as DOMA persists, statewide gay marriage rights evaporate at the state line and more than 1,000 rights and benefits from the federal government are denied even LGBT people in gay marriage states.
January 10, 2009, the national day of action to demand the repeal of DOMA, must be used to tell President Barack Obama and the Democratic Congress to end this federally sanctioned discrimination once and for all. Newsweek's latest national poll numbers show a marked increase in pro-gay attitudes nationally. Not only do 52 percent currently oppose the federal marriage ban (up from 45 percent in 2004), but decisive majorities are for ending all sorts of discrimination against LGBT people—73 percent approve extending health care to gay partners, 86 percent are for equal hospital visitation rights, and so on.
In the days following the 1969 Stonewall rebellion that gave rise to the modern gay movement, gay beat poet Allen Ginsburg looked around Greenwich Village and remarked on the change, "They've lost that wounded look." Like the Republic factory workers, new LGBT activists are shedding the hesitancy, defensiveness, and top-down strategies of the recent past. It is crucial to mobilize this outrage into the kind of movement that can actually win—one independent of corporate and Democratic Party control.